Pure Ingredients, Powerful Results...
GOOD LIFE PURE are incredibly effective, ultra-clean skin care products formulated to Protect by Day, Repair and Regenerate by Night. 100% PURE GOODNESS!!!
Start Your Day Fresh!!!
CLEAN START Soothing Face Wash...
A super concentrated, all-natural face wash that is gentle and soothing, yet incredibly effective. 
Readily removes make-up, dirt and impurities without disrupting your skin's moisture barrier.
A foaming gel that rinses away clean - leaving your skin fresh and ready to absorb whatever comes next!!!
Add CLEAN START to cart!!!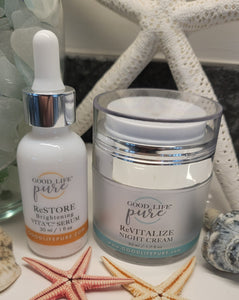 Night Moves...
The Ultimate Clean Skincare Set to help restore radiance to prematurely aging skin and to discover for yourself the difference that All Natural makes to how your skin looks and feels!!! Here's what you get:
1) ReSTORE Vita"C" Serum's ultra-potent form of vitamin C instantly brightens skin and helps reduce the appearance of existing dark spots, while our Ceramide Cocktail boosts collagen. This quick-absorbing formula allows for easy layering and an instant boost of radiance. Leaves skin glowing and promotes an even skin tone!!!
2) ReVITALIZE Night Cream is loaded with a virtual powerhouse of plant-based actives and nutrients that are geared toward stimulating collagen and restoring elasticity to help repair the skin on your Face, Neck & Decolletage while you sleep, and your body is in healing mode. 
It's a $226.00 value, for just $180.00 - that's 20% OFF!!!
Only $144.00 on Subsciption - that's an extra 20% OFF!!!
Learn More/Buy Now
My Promise to You...
I'm Rich Calandra, owner of GOOD LIFE PURE, an incredibly effective line of clean skin care.
Try our products absolutely RISK-FREE...
If you are not 100% satisfied with any of our products, simply return them for a full refund with our 30-day money-back guarantee.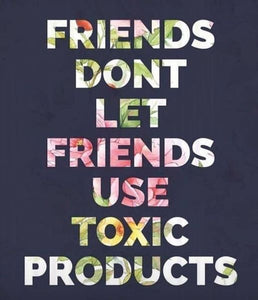 Know Better, Do Better...
Here's reality - the average woman in the United States uses 12 personal care products a day, containing 168 different chemicals, according to the Environmental Working Group (EWG.org).
Here's the issue - there are over 1,400 known carcinogens, hormone disruptors or otherwise questionable ingredients, currently banned or limited from use in personal care products in Europe - comparatively, only 30 such ingredients are banned here in the United States!!!
WHAT YOU PUT ON YOUR SKIN MATTERS!!!
Glossary of Key Ingredients
Coming Soon!!!
An Energizing Blend of Nootropic Superfoods blended in a base of Grass Fed Bovine Collagen Peptides specially formulated to jump start your day!!!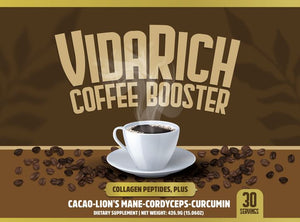 VidaRich Coffee Booster:
An Energizing Blend of Nootropic/Prebiotic Superfoods in a base of Grass Fed Bovine Collagen Peptides to jump start your morning routine!!! Supercharge the natural health benefits of your morning coffee and boost you overall vitality - both physical and mental - with each and every cup!! This unique blend harnesses the benefits of Curcumin (anti-inflammatory), Lion's Mane (boosts cognitive performance), Cordyceps (elevates energy), Beet Root (boosts Nitric Oxide) and Cacao (antioxidant powerhouse)!!!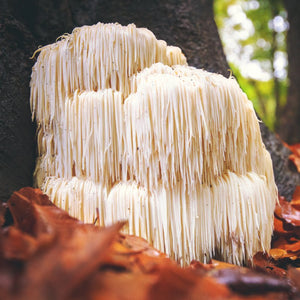 Lions Main Mushroom:
Lion's mane mushroom is a nootropic food long used in traditional Chinese medicine to maintain qi, a person's vital energy, and improve issues affecting the central nervous system. Lion's mane is known and valued for its neuroprotective capabilities. Lion's mane mushrooms contain compounds that stimulate brain cell growth and protect them from damage caused by Alzheimer's disease.
Cordyceps Mushroom: 
Cordyceps are best known for their ability to boost one's energy level, improve athletic performance and raise metabolism, thereby supporting better weight management, but cordyceps also offer antioxidant and anti-inflammatory benefits. Cordyceps improve athletic performance by increasing blood flow, boosting ATP synthesis for more natural energy, enhancing lactate clearance and reducing fatigue. Cordyceps have been used in Traditional Chinese medicine for centuries to help reduce symptoms of respiratory disorders.
Spirulina:
This blue-green algae is one of the top superfoods in the world today. In addition to being a great source of complete protein (containing all essential amino acids), spirulina is rich in antioxidants and a good source of several B vitamins, zinc, iron, magnesium, potassium and many other vitamins. Spirulina is not only super dense in nutrients, but also a very powerful energy booster. It's used to naturally aid weight loss, diabetes, stress, fatigue, anxiety, depression and premenstrual syndrome. Blue-green algae has also been used to improve memory, improve overall digestive health (it's a powerful prebiotic) and detoxing the body of heavy metals, particularly arsenic. Its nutritional profile is loaded with chlorophyll, B Vitamins, Vitamin K and omega-6 and omega-3 fatty acids, and is loaded with prebiotic fiber that may positively impact gut bacterial balance by enhancing the growth of beneficial bacteria while suppressing harmful species.
Raw Cacao Powder:
One of Nature's true Superfoods, Raw Cacao can enhance cognitive function, boost mental health and is rich in antioxidants. It supports cardiovascular health, metabolic health, and mediates the natural inflammatory response. Cacao can also boost one's energy levels, strengthen bone and skin health, and even reduce the risk of cancer. Cacao is rich in polyphenols, which lower blood pressure by improving nitric oxide levels and blood vessel function, which may also reduce your risk of neurodegenerative diseases by improving brain function and blood flow.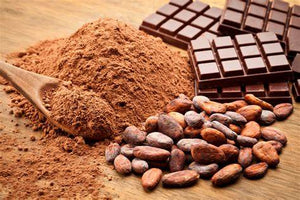 Beet Root Powder:
Beet Root Powder has been shown to improve athletic performance by boosting nitric oxide levels and improving muscle oxygenation during exercise. Beet Root Powder has also been shown to lower blood pressure, aid in digestion, slow the progression of dementia, as well as increase heart health. The nitrates in beet root may enhance athletic performance by improving blood flow, lowering blood pressure, and decreasing the amount of oxygen your body needs during exercise.
MCT Oil:
Short for medium chain triglycerides, MCT Oil is loaded with fatty acids that increase energy, boosts brain function and helps with weight management by providing a feeling of fullness. Your cells convert MCT Oil to energy faster than other oils and help you maintain healthy cholesterol levels. It also greatly enhances the bioavailability of fat-soluble nutrients such as curcumin.
Tumeric/Curcumin:
Curcumin: a polyphenol in turmeric, is known for its anti-inflammatory, anti-tumor, and antioxidant effects. Studies show that curcumin use improves cognition and memory and is associated with longevity and reduced risk for chronic age-related disease.
L-Theanine
L-theanine is an amino acid found primarily in green and black tea and some mushrooms. It's said to help ease anxiety, stress, and reduce insomnia. Paired with caffeine, L-theanine may help increase focus and attention. Research suggests that L-theanine may even improve the function of the body's immune system.